2020 was definitely my year for well-designed places. It was the focus of my work for the better half of the year, and led me to so many exciting discoveries, which I continue to share about on this website. Beyond some of my personal 2020 highlights (below), I've concluded this post with a series of achievements that the world saw in 2020 and which suggest that awareness of and demand for wellness in urban spaces is growing.
So I hope you'll join me in celebrating some bright spots in 2020, as challenging as the year may have been overall. And I know it's been a challenge. Personally, I began January 1st last year feeling stuck, facing an existential crisis, and hopeful for a turnaround. (I assure you, a global pandemic wasn't the turn I hoped for!!) Regardless, I did the best I could and, as a result, had some great experiences sprinkled in. Here are some of my highlights!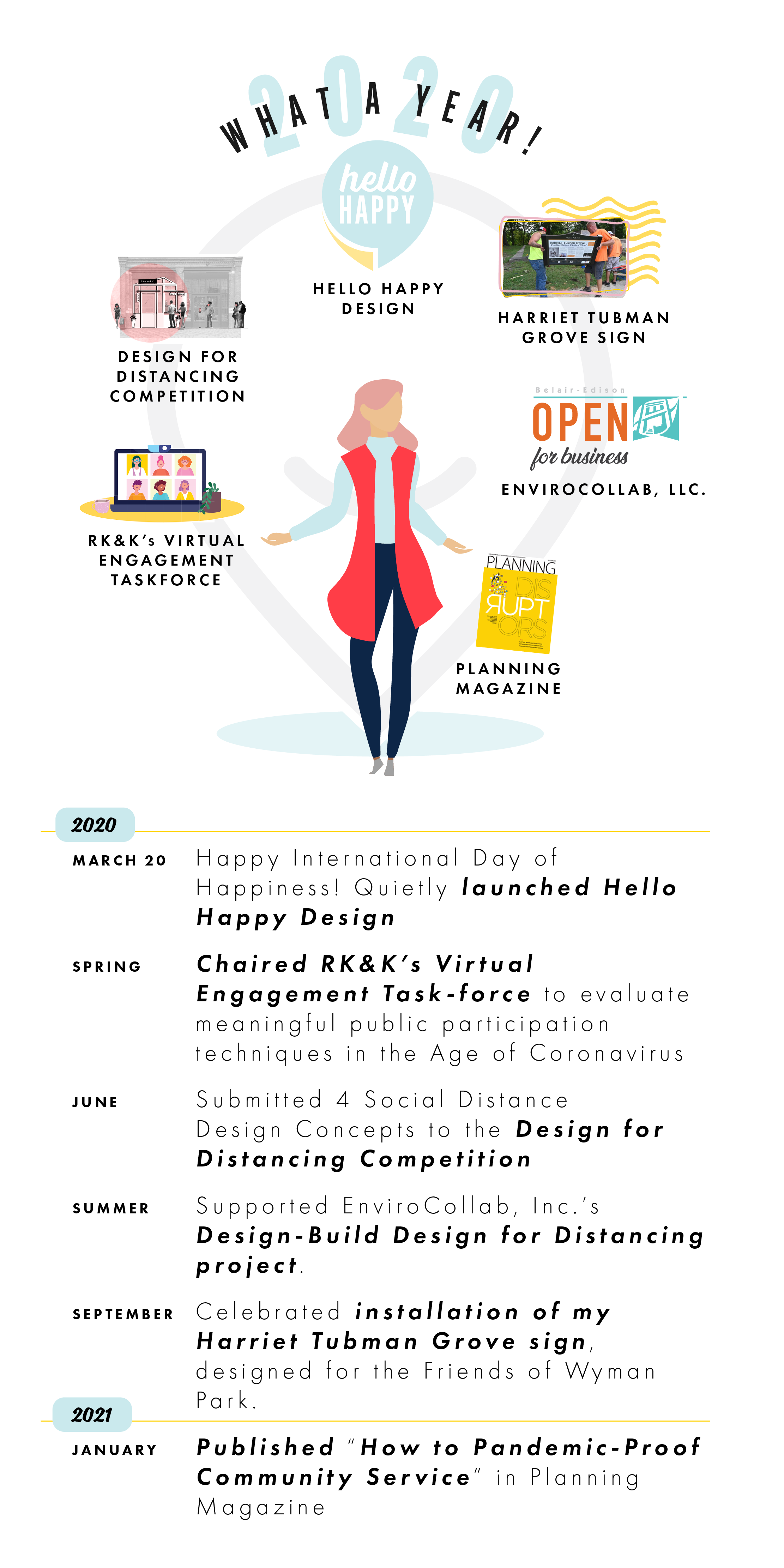 Though at times quiet, this year had a surprising number and diversity of professional opportunities for me. Notably, in this year of reflection and growth, I created Hello Happy Design and I began chasing my blue flame, my life's calling. The world around us has been evolving and as I see it, we've been given an opportunity to adapt. I'm excited about this professional pivot and my focus on using science-informed design strategies to create happier spaces and places.
So here we are in January 2021, and I'm even more hopeful for what's ahead. (I'm ever the optimist!) Yet, though 2020 may be behind us, the big social issues we grappled with aren't. To address these continuing challenges, the world of urban planning in 2021 calls for projects with integrity. Those of us who shape the world have a special role to play in the fight for mental health, racial justice, sustainability, and social prosperity.
I know that these issues are top of mind for many of you as well. I invite us all to work together, and we can leave our legacy and have a meaningful impact on the world. And just maybe we'll soon see a world that's healthier and happier for all.
So with that dream in mind, here's to a new year! I am optimistic about the experiences yet to come and I look forward to connecting and continuing this journey to create happier
It's been an interesting year for me, certainly. Beyond my little bubble, 2020 created some global achievements that emphasize the importance of the mental wellness of cities. Below is just a sampling of that
Published:
Urban Experience and Design: Contemporary Perspectives on Improving the Public Realm. Edited ByJustin B. Hollander, Ann Sussman
Design for Wellbeing: An Applied Approach By Ann Petermans, Rebecca Cain (*actually published at the end of 2019)
Researched:
Ten questions concerning well-being in the built environment
Launched:
The Human Architecture and Planning Institute, Inc
CRTKL Happy by Design initiative launched; published Happiness – Now More Than Ever
Thrived:
Yale's Science of Happiness Class on Coursera saw enrollment "octuple," says professor, Dr. Laurie Santos
Filmed:
Built Beautiful, An Architecture and Neuroscience Love Story Documentary
Buzzed:
Neuroarchitecture, a Movement at the Forefront of Design
Natasha Reid's designs champion social and psychological wellbeing
Design for Health and Wellbeing: How Spaces Can Make You Happier
architecture for health – buildings designed for wellbeing
Happened:
Conscious Cities Festival 2020
---
This is by NO means a complete list! In fact, I'd love to fill it out more. Help me create a more complete list of wellbeing accomplishments! What happened in 2020 that suggested cities and places that support mental wellness are in high demand?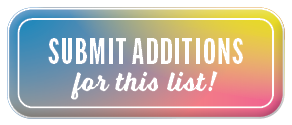 The above lists of personal achievements and global achievements are only partial pictures and don't fully express all the great work that's been done to advance design for wellbeing. I am so encouraged by the trend and I look forward to seeing this special focus in the built environment continuing to flourish!